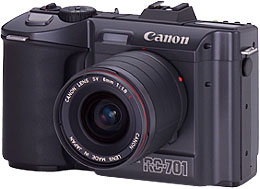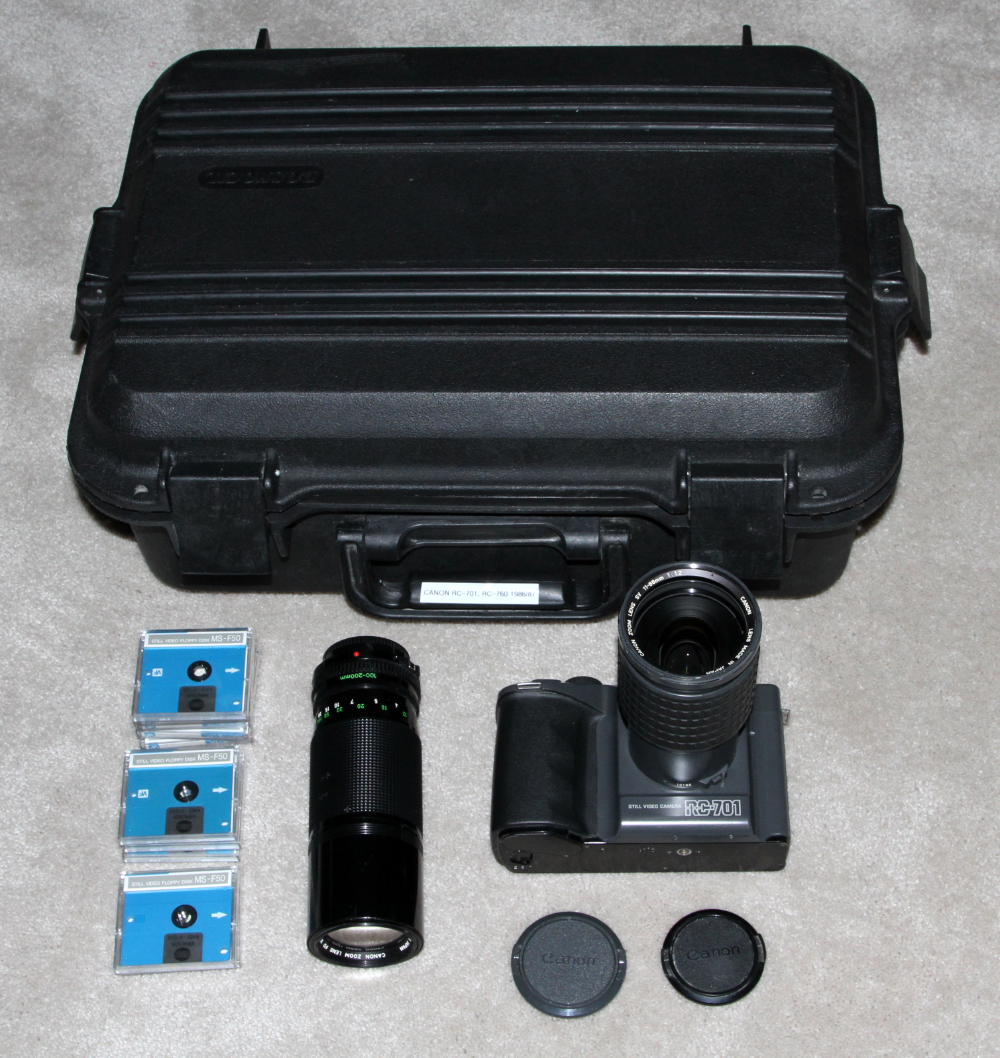 CANON RC-701 STILL VIDEO CAMERA - 1986. Canon was the first to market a still video camera, the professional model RC-701 (one source states that the 1981 Sony Mavica was marketed, but this has not been independently verified as of yet). The RC-701 was aimed mainly at the press market. It had four dedicated interchangeable lenses and also offered an adapter for 35mm lenses. Price of the RC (RC stood for Realtime Camera) with an 11-66mm f/1.2 lens was about $3,000. The complete RC-701 system consisting of the camera, a player/recorder, a printer, a laminator, and a unit for phone transmission cost about $27,000. The CCD was 6.6mm x 8.8mm with 780 pixels horizontally. This was equal to about 300 horizontal and 320 vertical lines on a TV monitor. The RC-701 had a swing-up mirror similar to a conventional SLR and had shutter speeds of 1/8 to 1/2000 second. It could capture 1, 2, 5, or 10 frames per second. Additional lenses included a 6mm f/1.6, comparable to a 24mm wide angle 35-mm lens, and a 50-150mm telephoto zoom. Both lenses were for the RC-701 only and could not be used on other cameras. Popular Photography, July 1986, p62. We believe we were the first digital camera history web site to provide a photo and information concerning this camera.
http://global.canon/en/c-museum/product/svc443.html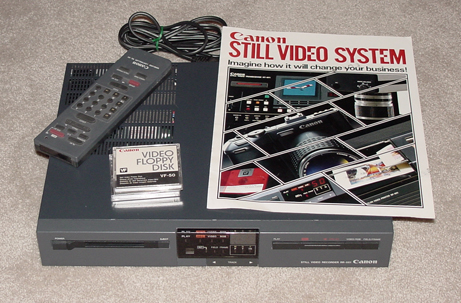 CANON RR-551 STILL VIDEO PLAYER - 1986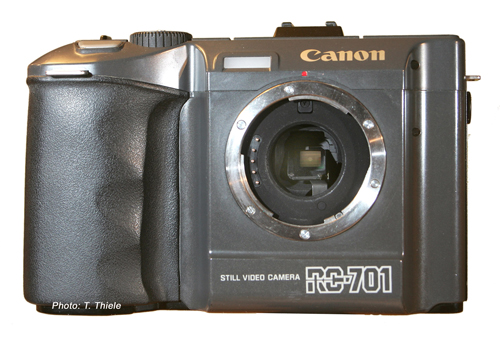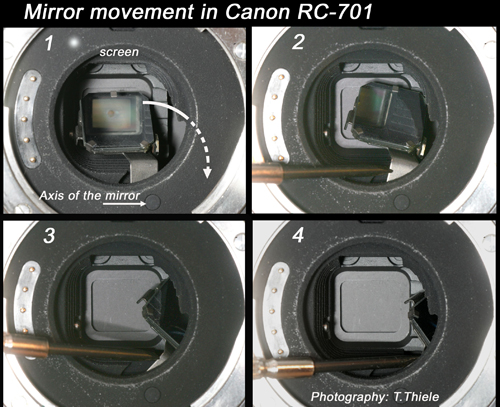 CANON RC-701 Mirror System - Magazine aticles of the time stated that the RC-701 had a flip-up mirror similar to standard DSLR film cameras, but as shown by the photos above submitted by Tom Thiele of Germany, the RC-701 had an unusal mirror mechanism. Instead of flipping up, it moved downward and to the right as seen from the front. If you are fortunate enough to own a RC-701, check out this unusal mirror movement for yourself. Errors in reporting such as this by professional photography magazines make you wonder how much other misinformation is now permanently part of recorded history. Thanks to Tom Thiele for setting the record straight on this matter. We believe we were the first digital camera history web site to provide a photo and information concerning this camera.

CANON RR-551 STILL VIDEO PLAYER/RECORDER - 1986. The player/recorder in the complete Canon system mentioned above was the RR-551, the world's first still video player/recorder to be marketed. The RR-551 shown above, in excellent condition, was purchased on eBay with manual, remote, floppies and several manufacturer's brochures for $25.
https://books.google.com/books?id=zuMDAAAAMBAJ&pg=PA56&lpg=PA56&dq=canon+%2B+%22RR-551%22&source=bl&ots=lrtxM0anJA&sig=yyyw2DcxxE7icAJTLghUybb4KIQ&hl=en&sa=X&ved=0CC0Q6AEwBWoVChMI3uny8oGfyAIVRj4-Ch0OkgCq#v=onepage&q=
canon%20%2B%20%22RR-551%22&f=false

CHINON STILL VIDEO CAMERA - 1986. Zoom lens, multi-beam auto focus. Not produced. At Photokina, Chinon, Fuji, Konica and Nikon all showed mock-up versions of SLR still-video cameras. Chinon's black box appeared without specs, but Fuji's has a zoom lens with macro mode, a built-in meter and a range of shutter speeds approximating those of standard 35-millimeter cameras. Electronic Photography, John J. Larish, 1990, p20 and p33. We believe we were the first digital camera history web site to provide a photo and information concerning this camera.

https://www.nytimes.com/1986/10/05/arts/camera-at-photokina-still-video-cameras.html

1.4MP CCD - 1986. Kodak develops a 1.4 million pixel CCD. Modern Photography, September 1986, p28.
https://en.wikipedia.org/wiki/Kodak_DCS


FIRST COMMERCIAL DIGITAL CAMERA - 1986. MegaVision introduced a high-resolution 2000-line tube camera system called the Tessera, the very first digital camera to be used in commercial photographic applications. We believe we were the first digital camera history web site to provide a photo and information concerning this camera.


www.mega-vision.com/about/about.htm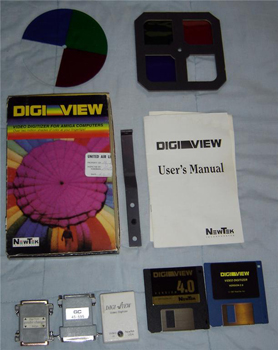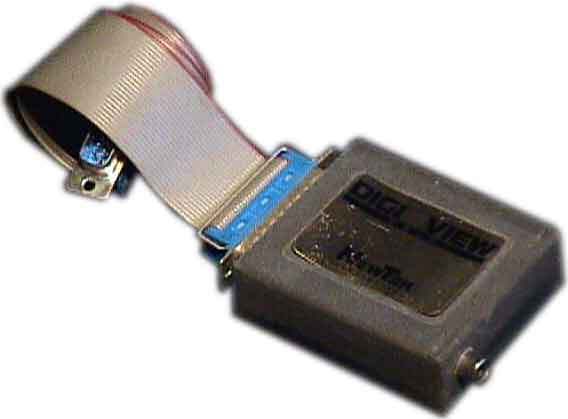 NEWTEK Digi-View - 1986, 1987, 1989. In 1986 the NewTek Digi-View, built to run on the Amiga platform, was the first inexpensive video digitizer designed for home computers. It was developed to take advantage of the Amiga 1000's advanced video capabilities. Digi-View was also the first personal computer digitizer to capture 4096-color, photo quality images. Soon afterward, NewTek followed with DigiPaint, which provided video painting capabilities within the computer system. It was developed to take advantage of the Amiga 1000's advanced video capabilities and was plugged into the Amiga's parallel printer port. A video cable then lead from the digitizer to either a B&W video camera with a color wheel attached, or to an external color splitter box. The DigiView took 3 passes to digitize a frame, and each pass was done by filtering through one of 3 primary colors: red, green, and blue. This meant that the image being digitized had be still or paused. The digitizer generally captured at 320x200 pixels with up to 4096 colors, but was capable of 640x200 pixels if the system had sufficient memory. Once all three captures were done, the Newtek software then merged them into a single color capture. Thanks to Patrick Murphy for providing information concering the Digi-View.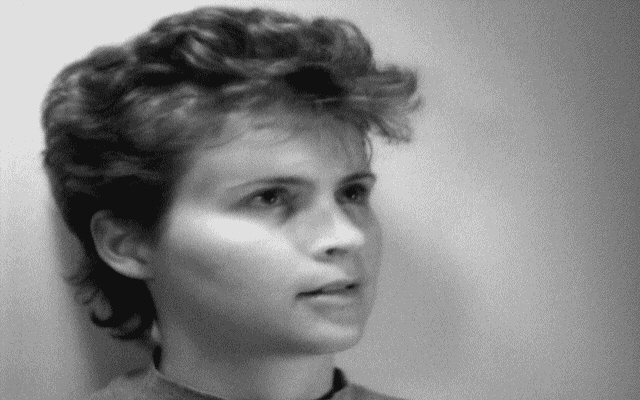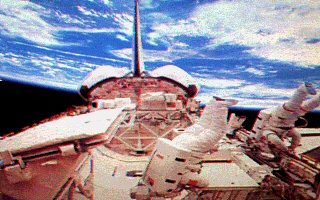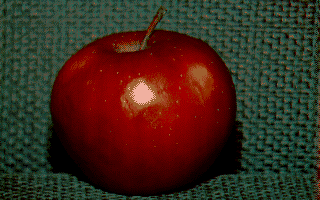 Examples of photos captured with the Newtek Digi-View and the Digi-View digitizer .
http://time.com/26380/tims-vermeer/

http://www.amiga-hardware.com/showhardware.cgi?HARDID=307
https://www.flickr.com/photos/53568131@N00/6433617601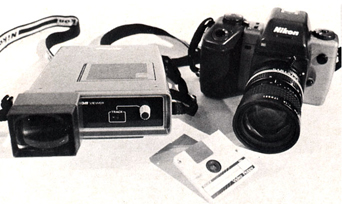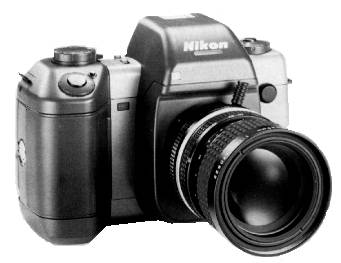 NIKON SVC (Still Video Camera) PROTOTYPE - 1986. This camera was built around a 2/3-inch CCD of 300 000 pixels. It allowed the analog recording of 25 or 50 images on a small floppy disk of two inches, the same one as used by the Canon Ion to be marketed in 1988. The body of the SVC was designed similar to that of the Nikon F801 film camera which was marketed two years later, Two lenses were intended for the SVC, a 6mm f/1.6 and a 10 to 40mm f/1.4. The Nikon SVC was shown at Photokina '85, but the electronics were mainly by panasonic. We believe we were the first digital camera history web site to provide a photo and information concerning this camera.


PHILIPS STILL VIDEO CAMERA CONCEPT - 1986/87. Drawings (see above) and wooden models were made, but no prototype was built. Philips was one of those companies that were slow to respond in this market and did not have a consumer camera ready until 1997. Back in 1986 and 87, Philips was involved in a concept study that included some drawings and wooden mockups. Finally coming to market eleven years after the initial Sony and Canon still video cameras cameras, they were far behind the power curve from which they never did fully recover.
https://www.focus-numerique.com/actus/dossiers/retro-photo-1986-tout-s-accelere-1095.html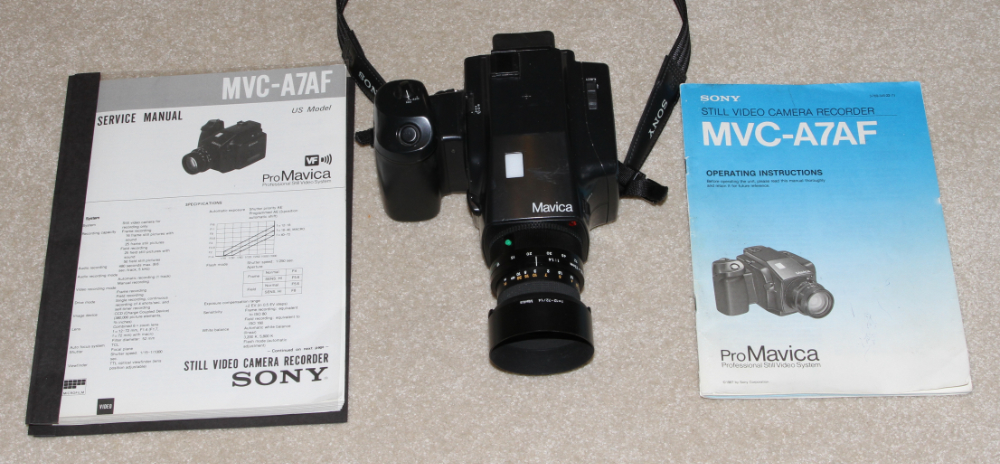 SONY MAVICA MVC-A7AF - 1986. The A7AF was a still video camera which recorded images onto two-inch floppy disks (MP-50) and the first to provide audo annotation. One disk could hold up to 50 images in Field mode or 25 images in Frame mode. The Field mode recorded on a single track of the disk while the Frame mode required two tracks, but provided better quality images. While recording in Field mode ISO rating was 160, and 80 for Frame mode. The A7AF could also record 9.6 seconds of audio to accompany each image by use of an additional recording track. Images were registered by a 2/3-inch charge coupled device (CCD) of 380,000 pixels. The lens was a 6X zoom, 12-72mm, f/1.4-1.7, with macro capability. The lens could be focused manually or automatically and had a focal plane shutter with speeds of 1/15 to 1/1000 second. The viewfinder was TTL (through-the-lens) with an adjustment for individual eyesight. The A7AF specifications included auto white balance, EV adjustment of + or -2 in 0.5 EV steps, shutter priority and AE modes, self-timer, remote control option (RM-S7), date indicator, and shoe for an optional flash (MFL-30). Other options included an NP-4000 battery pack which could record approximately 50 disks per charge, a DCC-2600A car battery cord, an MVR-A770 still video recorder/player, and a variety of optional microphones to supplement the built-in microphone. Normal operation was by six L40 (LR6) alkaline batteries and a button lithium battery (CR2025). Supplied accessories were an eyepiece cover, lens hood, shoulder strap, and the CR2025 button lithium battery. Unusual features of the A7AF included a recording head contamination indicator and a moisture condensation indicator. The A7AF was for recording only and playback required use of the Sony MVR-A770 still video recorder/player shown below. Information concerning the A7AF is from an operating manual kindly provided by Mr. Charley Mack of Park West, Chicago. Also see Understanding Electronic Photography, John J. Larish, 1990, p19 and Digital Photography, Mikkel Aaland, 1992, p15. We believe we were the first digital camera history web site to provide a photo and information concerning this camera.
https://goodoldbits.wordpress.com/2016/01/22/mavica-1-analog/.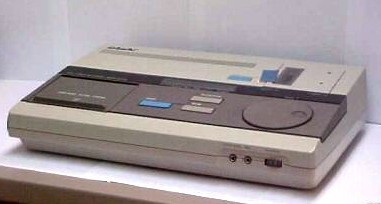 Sony MVR-A770 still video recorder/player

https://www.google.com/search?q=SONY+MAVICA+MVC-A7AF&oq=SONY+MAVICA+MVC-A7AF++&aqs=chrome..69i57.13578j0j7&sourceid=chrome&ie=UTF-8

https://en.wikipedia.org/wiki/Sony_Mavica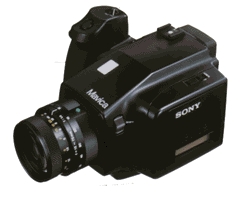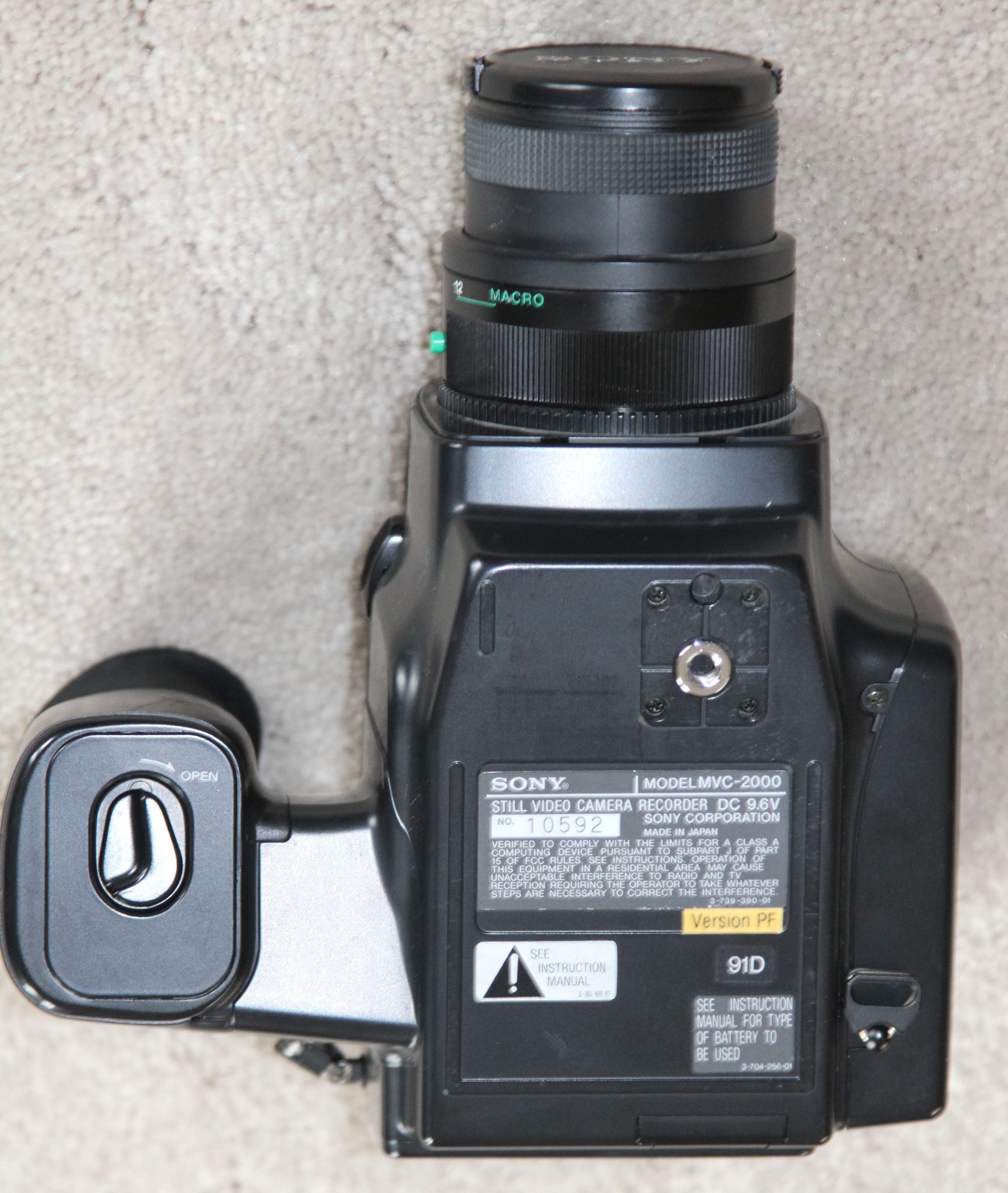 SONY ProMavica MVC-2000, 2000PF, 2010 - 1986/89/90. The MVC-2000PF was a pre-production, hand-built camera sent to specific photographers for testing. The production model went on sale in 1989. This analog still video camera had a 13X zoom lens and was available only in NTSC. It was a one-CCD camera of 2/3-inch and 380K pixels. 48mm to 288mm f/1.4 zoom lens. Shutter 1/15 to 1/1000. MSRP in 1989 of $3,395. We believe we were the first digital camera history web site to provide a photo and information concerning the MVC-2000PF.

The MVC-2000PF pre-production proofing version of the MVC-2000 is thus extremely rare. In the past, Sony often hand-built prototypes of upcoming cameras and distributed them to a few individuals for testing prior to commencing full production. Those prototypes had the PF designation added to the normal model number. Cameras such as the Nikon QV-1000C which were produced in very small numbers (about 180 units for the QV-1000C) sell for astronomical prices among collectors due to their rarity, however, even 180 units could be considered mass production compared to the small number of hand-built prototypes such as the MVC-2000PF. Such being the case, there is virtually no limit on the price a PF version might sell for at auction.

This was one of our luckiest purchases ever. Another potential bidder (see above email) who was aware of the rarity of the PF version, but was out of town at the time of the sale. In 2017, a standard production versions of the MVC-2000 was going for $400 or more. The value of a PF version, only one of which we have seen on eBay in the past twenty years, would be hard to guess.

The MVC-2000 production version went on sale in 1989 and the MVC-2010, a slightly modified version of the MVC-2000 which included audio record capability, went on sale in 1990.

Images recorded on the mini discs could be viewed on a TV through use of the still video player. Basic Digital Photography, Norman Breslow, 1991, p79.

A word about dates. While the exact date of the PF version cannot be absolutely proven, It is obvious that a camera that went on sale in 1989 had to be in the works years before that, especially at this early time in the development of electronic cameras. Exactly when the hand-built PF version was constructed is of little relevance, what is relevant is that it did and does exist. Since the 2000PF is merely and updated, hand-built version of the Sony MVC-A7AF of 1986, it is probable that is was constructed in 1986 or thereabouts. Whenever possible, we use the earliest known date for a camera rather than the on-sale date. Oftentimes, cameras have been shown or discussed a year or two before actual marketing, sometimes as much as four years beforehand. The reason we mention this is that some sites make a really big issue of camera dating even though they also state that the first known date is the most important one, but then oftentimes show a date that is known to be the on-sale date rather than the first known date. In the case of the 2000PF, one site makes a big issue of the 1986 date while at the same time inferring that the PF version did not exist at all. A rather questionable claim considering that the label on the carton states MVC-2000PF, as does the sticker on the bottom of the camera. An error in dating, if it exists, is of little consequence to anyone, but stating that a camera never existed is a major research error and one of significant consequence. This is at least the second time that the operator of this particular site has stated that a camera never existed and then had to eat his words. As to the use of Hi-band by the MVC-2000PF, the Hi-band standard was in the works well before it was implemented in 1988. Knowing this, Sony could have used Hi-band on the PF version in 86 or 87 since they intended it to be on the marketed version in 1989. In any case, making a major issue of the date of a camera that you believe never existed seems to be rather unusual logic to say the least

https://en.wikipedia.org/wiki/Sony_Mavica
MVC-2010 sold on eBay in October of 2016 (see below).

http://www.ebay.de/itm/Sony-ProMavica-MVC-2010-/322258548750?nma=true&si=CDvlLo1uOAuWWLM6MTVsWFjWF5o%253D&orig_cv
ip=true&rt=nc&_trksid=p2047675.l2557
https://aucview.aucfan.com/yahoo/e134084171/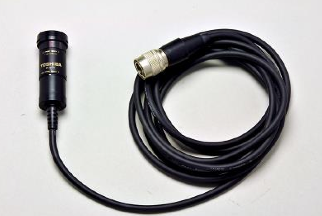 TOSHIBA IK-M10A - 1986. World's first miniature single-chip color video camera (16.5mm diameter). We believe we were the first digital camera history web site to provide a photo and information concerning this camera.

1986