1930s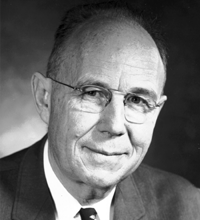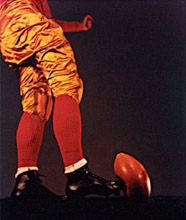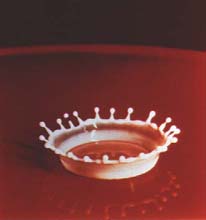 1. Harold Edgerton 2. The Kick - 1934 3. Milk Drop Coronet - 1957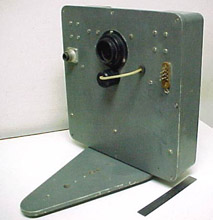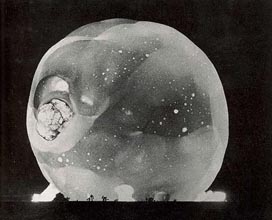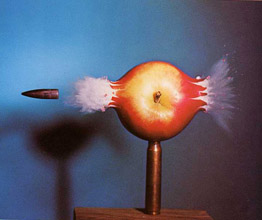 4. Rapatronic Camera 5. Atomic Blast 6. Bullet in Flight
ELECTRONIC FLASH PHOTOGRAPHY - 1931. Harold Edgerton, an American researcher and inventor, made electronic flash photography a reality in 1931 when he invented a stroboscopic light for use in both ultra-high-speed and still photography. The discovery was announced in the May issue of Electrical Engineering. Edgerton was also a pioneer in the use of high-speed electronic flash with this work in the 1940s. Edgerton became the first to illuminate nighttime landscapes and darkened interiors, and his technology was capable of freezing the quickest of actions. In 1968 Edgerton joined with Jacques Cousteau in underwater exploration, producing the first underwater time-lapse photography. The atomic blast photo above was taken using another of Edgerton's inventions, the Rapatronic camera - capable of taking photographs with exposure times of 10 nanoseconds (10 billionths of a second).
http://www.nevadasurveyor.com/atomicbomb/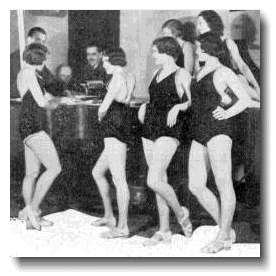 BAIRD SILVATONE DISC TV RECORDING - 1933. Oldest known consumer recording of a TV broadcast. A British citizen made a 1933 recording of a BBC transmission onto a Baird 30-line system Silvatone disk (see 1928 - John Logie Baird). The recording was made at the owner's home in Ealing, England, using domestic equipment connected to a wireless receiver tuned to the BBC's vision (TV) transmission in the Medium Wave band. The recording included a dancing group called the Paramount Astoria Girls. http://www.tvdawn.com/index.htm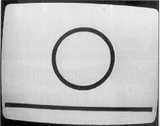 TV TEST PATTERN - 1934. Test pattern by the BBC. The first ever television test pattern, this very simple pattern was broadcast by the BBC in 1934 using Baird's 30 line TV system.
https://www.wikiwand.com/en/List_of_BBC_test_cards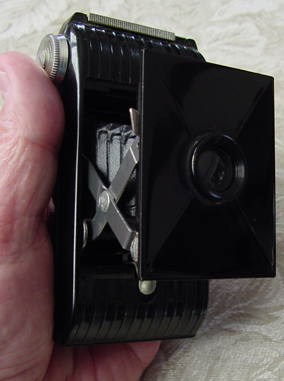 KODAK BANTAM - 1935. Example of an inexpensive pocket-sized bellows camera of the 1930's. For those interested in beginning a camera collection of their own, there are many cameras such as this available in excellent condition at very low prices. The above camera appears to have never been used and was purchased for just $4.99.
http://camerapedia.wikia.com/wiki/Kodak_Bantam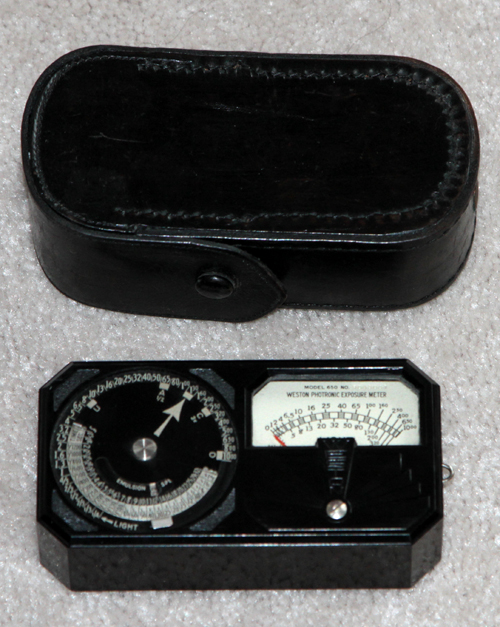 WESTON MODEL 650 - 1935-39. One of Weston's earliest light meters and rather unique due to its shape. This sample is noteworthy because of its excellent appearance and that fact that it still works properly. Original MSRP $15.95 ( about $256 in 2011 dollars).
http://ian-partridge.com/west650.html

FIRST REGULAR U.S. TV BROADCASTS - 1936. NBC began the first regular telecasts in the U.S. in 1936. http://www.home.eznet.net/~fshippey/
ARGUS MODEL A - 1936. The first Argus camera, known as the Model A, was manufactured in Ann Arbor, Michigan in 1936. It was a success as the first low-cost, easy-to-use 35mm film camera in the world. Thirty thousand cameras were sold in the first week at $12.50 each. Worldwide sales of this model continued until 1950. The popularity of the Model A influenced Kodak to switch their film manufacturing from 127 to a 35mm format, which remains the dominant film in use today. In addition to the brown and gold model shown here, it also came in black and gold, olive drab, and gray.
https://www.arguscg.org/reference/a.shtml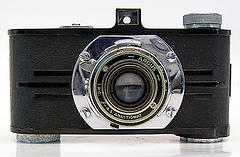 ARGUS MODEL AF - 1937-38. The Argus A was followed by the AF (Auto Focus) model in 1937 which incorporated a constant focusing mechanism rather than the standard two position focusing settings of the more common A. Other than that, the A and the AF are the same camera.
The original MSRP for the AF model was $15. In 2009 dollars that would be about $222.
http://www.camerapedia.org/wiki/Argus_AF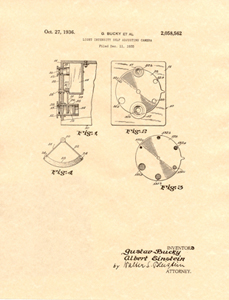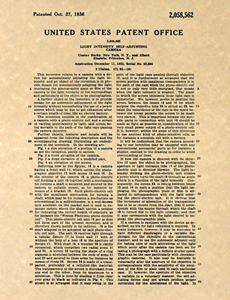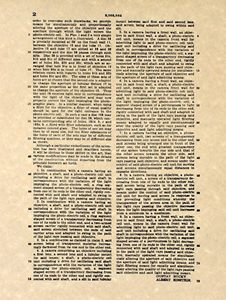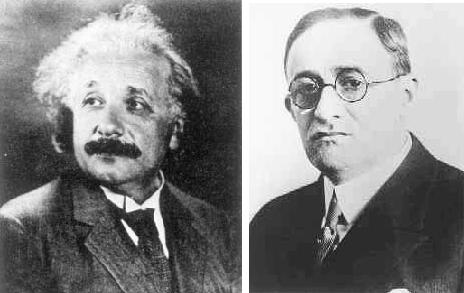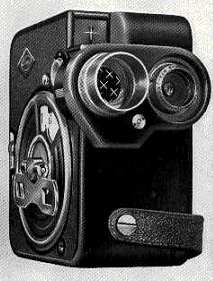 EINSTEIN / BUCKY CAMERA DESIGN - 1936. In 1936 Albert Einstein and Gustav Bucky patented a design for a camera with a photo-electric cell to operate a mechanism to reduce the intensity of the light striking the film (copy of patent above). Two mechanisms were described: 1) a shade of varying transparency to be moved in front of the film, and 2) a mechanism to rotate a plate with various sized holes. According to Sean Johnston of the University of Glasgow, the Eumig C-2 marketed in Austria in 1935, was the First to incorporate a photoelectric meter coupled to a lens aperture (above right). A History of Light and Color Measurement, page 229 of HTML version, Sean F. Johnston, University of Glasgow, UK
http://www.hebrewhistory.info/factpapers/fp007_photo.htm
http://www.bekkoame.ne.jp/~o-pat/english2.htm

The 1936 Berlin Olympic Games were the first to be broadcast by electronic television cameras.

https://en.wikipedia.org/wiki/Olympics_on_television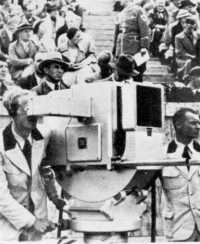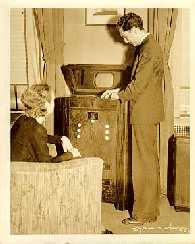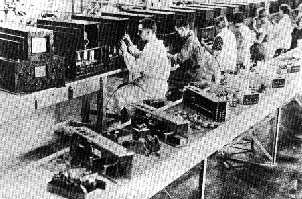 TV Camera at Olympics RCA TV Set Circa 1936 1935 German TV Production Line
Click for Larger View Click for Larger View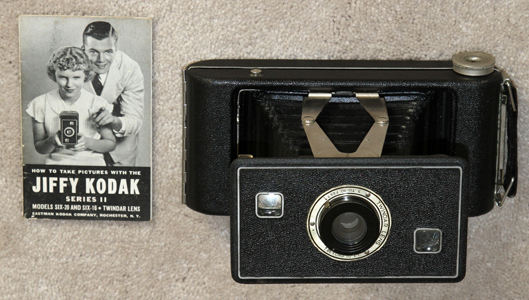 KODAK JIFFY SIX-20, SERIES II - 1937-1942. This camera is unusual in that it has to viewfinders, one for landscape photos and one for portrait photos. The original MSRP in 1937 was $10 which would about $150 in 2010 dollars. The above camera was part of a well-maintained collection which is why it and the maual are still in excellent condition after more than 70 years. It and the manual were obtained on eBay for $14.99, a refreshing experience since many original manuals are now sold separately for $20 or more.
http://www.camerapedia.org/wiki/Jiffy_Kodak_Series_II
COPPER-ETCHED WOOD BLOCK PRINTING PLATE - WARREN W. HATCH - 1937. This example of a wood letterpress plate was sent to us by our good friend Joan Klonowski who lives in New Mexico. She obtained it at a flea market. Many similar items are available on eBay or elsewhere. Letterpress was originally a flat bed process which used wood blocks, hand set lead type, and later machine set monotype or linotype. It was commonly used both for newspaper and book printing well into the 1960's, although it was hard pressed by the web offset process by then. This sample was likely used for a relatively short run application by one printer. The signature below the image is not at all unusual. It was common for the frontispiece of letterpress printed books, for a portrait of the author.

Many thanks to Terry Wedge for the above Information concerning the letterpress printing process.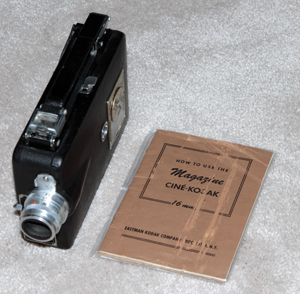 KODAK CINE 16 - 1936. Kodak is well known for inexpensive still cameras and 8 mm movie cameras, but they also produced many inexpensive 16 mm movie cameras over the years. The Cine 16 came with a standard Kodak Anastigmatic F1.9 25mm lens. It had a leatherette style body with a carrying handle that doubled as a viewfinder and a wind-up motor. It could hold a 100 foot magazine of 16 mm film. MSRP with case was $125 ($2,100 in 2013 dollars).
https://en.wikipedia.org/wiki/Cine-Kodak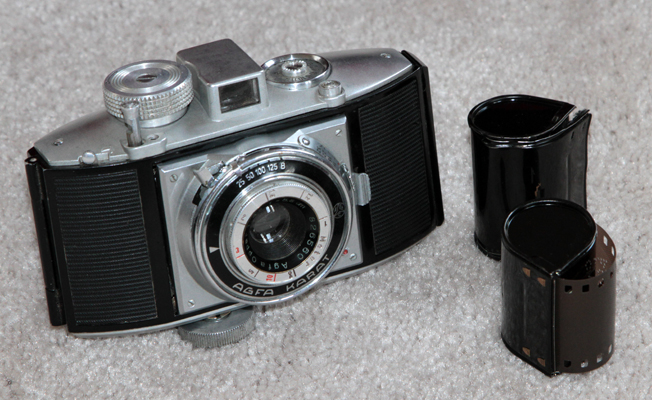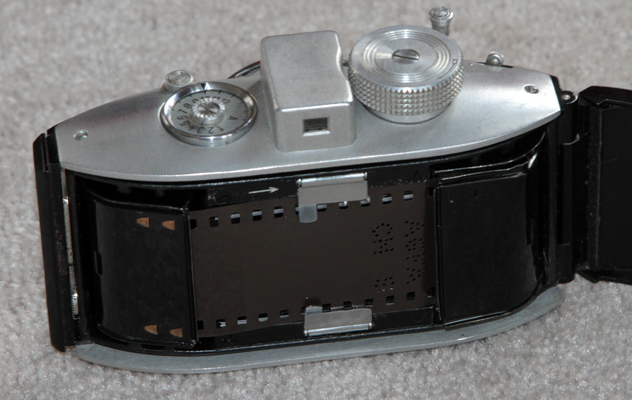 Agfa Karat 4.5 - 1938. One of many Agfa Karat cameras produced from 1938 through the 1950s. They are generally identified by the lens: 3.5 Compur, 4.5 Oppar, etc., but there were several different lenses used in the same model and the exterior appeance also varied between cameras with the same lens, thus it is not always easy for the amateur to determine which variation he has and the year of manufacturer. The unique characteristic of the Carat models produced up through 1947 was the use of a film loading system that involved cogs in the center rear of the camera that forced the film to move into the empty cassette on the right rather than being pulled into the cassette as was standardl for 35mm cameras. In 1948 and after the Karat cameras use the standard system still used today to load 35mm cameras.
http://camerpedia.wikia.com/wiki/Agfa_Karat
A VERY SPECIAL KODAK BABY BROWNIE SPECIAL - 1938-54. This Brownie belonged to Norman Breslow and his wife. Yes, the same Norman Breslow who was the originator of the process for digitally altering photos prior to the development of apps for doing such artwork and who is shown on our 1991 page. Norman didn't use this camera for any of his projects, but the mere fact that he owned it makes it a collectible item. The Brownie Special was a Bakelite, 127 film camera. Original MSRP was $1.25, about $21 in 2015 dollars.

http://camerapedia.wikia.com/wiki/Kodak_Baby_Brownie_Special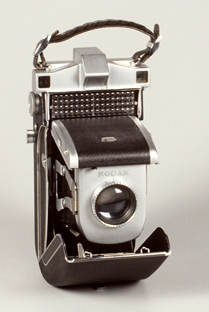 KODAK SUPER SIX-20 - 1938. The Super Six-20 was the first still camera with autoexposure. It was very expensive for that era and relatively few were sold. Production: 1938-1944, 719 manufactured. 620 roll film. MSRP $225 (about $3,600 in 2012 dollars). Information provided by Todd Gustavson, curator, Technology Collection, George Eastman House. Due to its limited production, sellers request what would normally be considered outrageous prices for early Kodak models. Some items such as the six-20 take on a cult status among collectors and thus demand premium prices far beyond what thier availibity would suggest (about 719 or so). We have cameras in our collection that were produced in far fewer numbers, or are even unique, but were obtained for far less than current asking prices for the six-20. In 2012, eBay asking prices ranged from about $2,400 to $2,800.
https://www.eastman.org/search-collections
http://camera-wiki.org/wiki/Kodak_Super_Six-20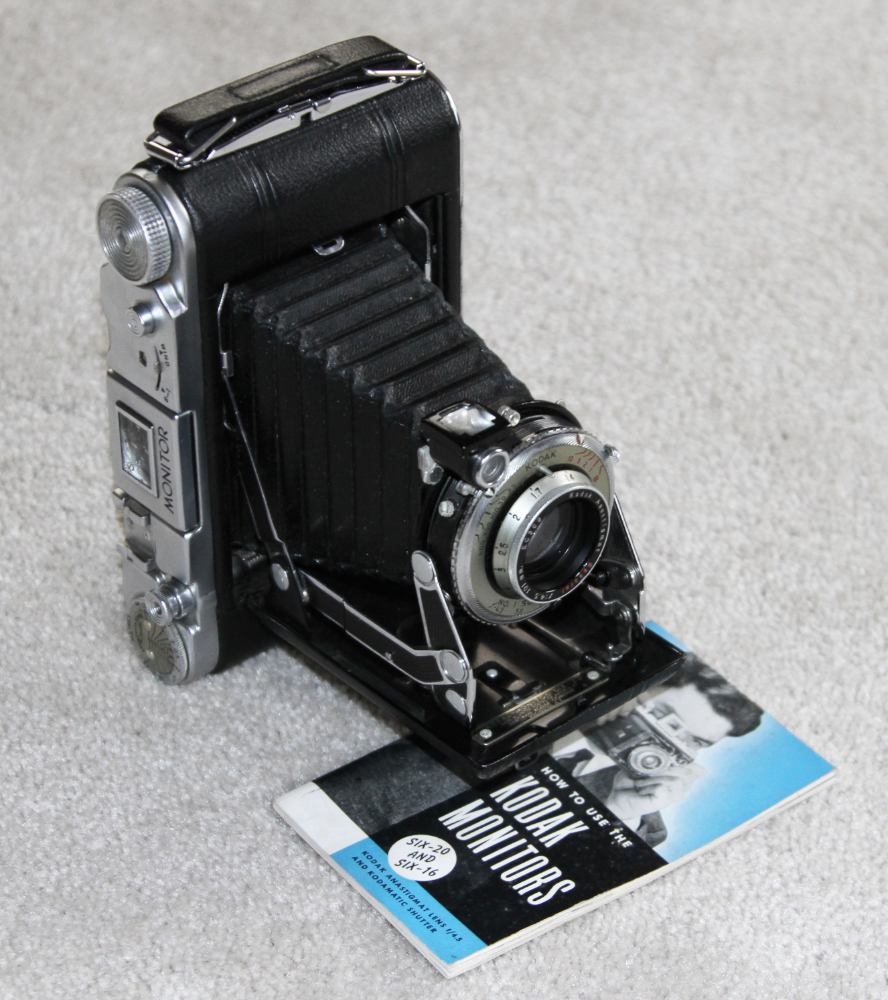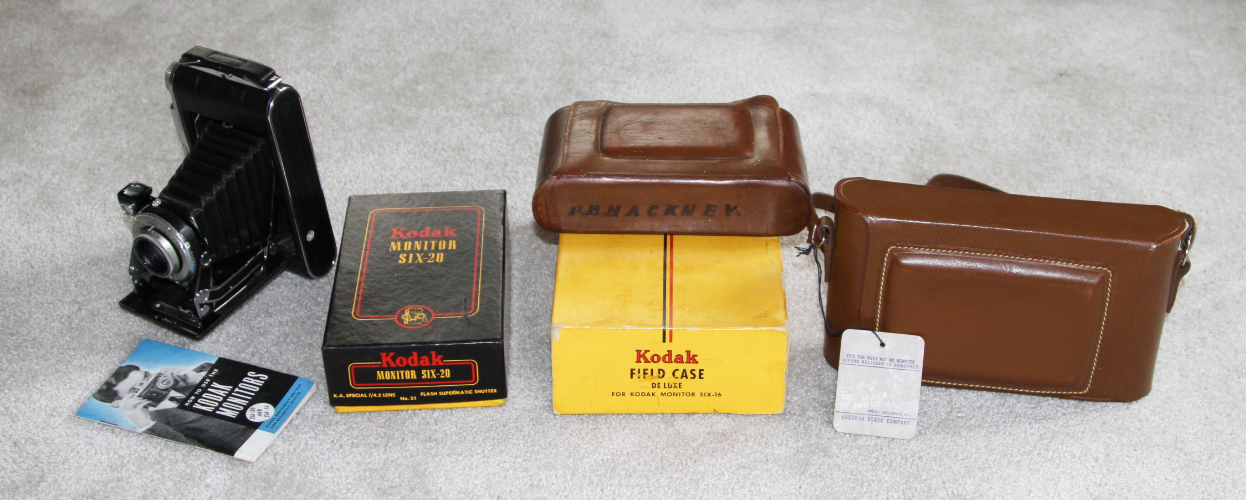 KODAK MONITOR SIX-20 / SIx-16 - 1939-48. A Monitor Six-20 was donated by our good friend Joan Klonowski of Grants New Mexico. Although the case shows signs of being carried around a lot, the camera itself is in near pristine condition, including the bellows. Lens: Kodak Anastigmatic Special 101mm f4.5-32. Shutter: Supermatic B-1/400 sec. With the exception of the very rare and fragile Kodak Super Six-20, the Monitors are perhaps the most sophisticated American Kodak folding cameras of the 1930s and 1940s. The Six-20 used 620 roll film and the Six-16 used 616 roll film. The Monitor Six-16 originally sold for $48.50 and the Monitor Six-20 for $66.00. Presumably, the Six-20 price was for the more expensive lens (the Anastigmat Special) as excepting for the dimensional differences of the two film formats, the cameras are identical. They are solid and very well made.

Update 1: Like most collectlors, we like to have as much of the original items that came with a camera as possible. First, we ordered an original manual from Craig for a total of $21.70. Unbelievably, when searching for a case in better condition than the one that came with this 1939 camera, we found a brand new case in its origial box with the original Kodak price tag of $7.40! Of course, we didn't get it for $7.40, but instead a total of $47.90 including shipping. We also found an origial box for the camera which cost us an additional $23.45. So this "free" camera ended up costing us a total of $93.05, but we feel it was well worth it because of the near mint condition of the camera itself. Such a well-preserved product of yesteryear deserves a fine case and its original manual. We will retain the case that came with the camera as it may have some historic value. The name F.B. Hackney was imprinted on the case in several places and that person might have been the original owner of the camera which is seventy years old or older. We did a search for a Frank B. Hackney and found a person with that name who died in 1993 and lived in Grants New Mexico. If he was indeed the owner of the camera we now have we would be interested in knowing if he purchased the camera new and what his occupation was.

Moral of the story: Beware of Greeks and Klonowskis bearing gifts!

Update 2: Joan has confirmed that she purchased the Six-20 at a farm auction in Grants New Mexico. It appears then that Frank Hackney was the owner and that he was a farmer. Thanks to Frank for taking such good care of his camera. We believe that he would be pleased to know that his camera is now a treasured part of a collection and that it is high-lighted on a camera photography web site.

http://camerapedia.wikia.com/wiki/Kodak_Monitor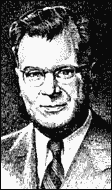 Chester F. Carlson and Electrophotography - 1938. Electrophotography (Xerography) was invented by Chester F. Carlson. While others sought chemical or photographic solutions to instant copying problems, Carlson turned to electrostatics and in 1938 succeeded in obtaining his first dry-copy, and the first of many patents two years later. It took presentations to more than 20 companies before Carlson was able to interest the Battelle Development Corporation in his invention in 1944. In 1947 the Haloid Company, later renamed Xerox Corporation, negotiated commercial rights to his xerographic development. Eleven years later, and just 10 years before his death in 1968, Xerox introduced its first office copier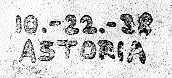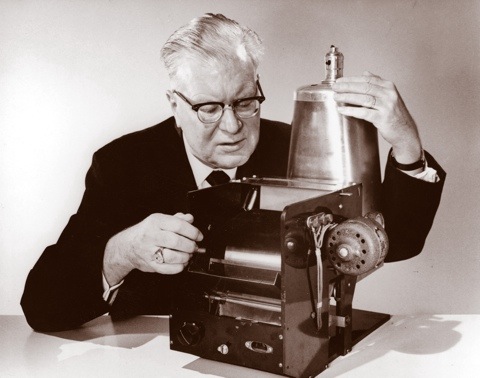 On October 22, 1938, Carlson, working with his assistant Otto Kornei, produced the first ever Xerographic image shown above left. Above photo shows Mr. Carlson with prototype copier. Additional information concerning Chester Carson and copiers can be found at:
https://en.wikipedia.org/wiki/Chester_Carlson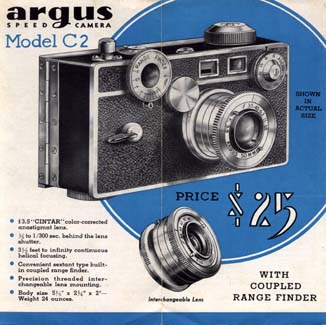 ARGUS C and C2 - 1938. The Argus C and C2 models were affectionally known as the" brick". Millions were sold thereby contributing to the Argus Model A affect on film sales which resulted in 35mm film camera domination of the consumer market.
https://www.arguscg.org/reference/a.shtml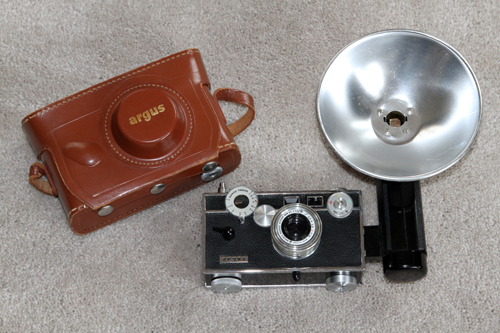 ARGUS C3 - 1939-66. The black C3 shown above is considered the classic C3 as it was produced for so many years with only minor changes, however, there were many other C3 variations produced from time to time, often with only cosmetic changes. The C3 is very common due to the large number sold and their durability. They can often be found in near pristine condition at very reasonable prices. The above camera in excellent condition with case and flash was purchased for only $29. Many collectors specialize in Argus cameras only, and there is a collector's club just for owners of Argus cameras.
Prices and inflation: A 1959 ad for the C3 had a price of $39.95. In 1939 dollars that would be about $19. In 2009 dollars that would be about $290. That second figure makes the $29 spent for the above camera to seem to be even more of a bargain.
http:/?en.wikipedia.org/wiki/Argus_C3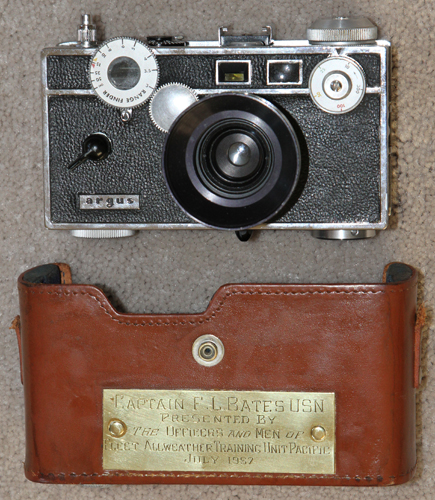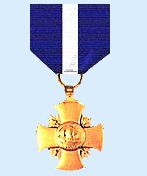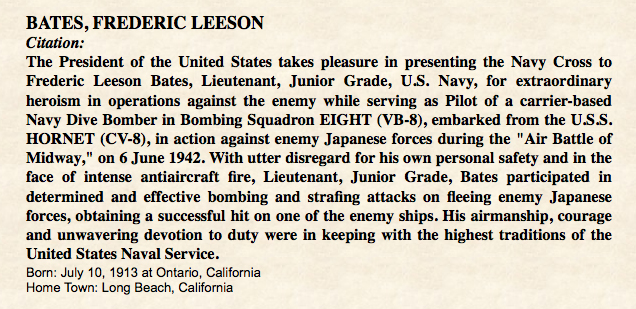 A VERY SPECIAL ARGUS C3. There are two things that make this Argus C3 special: 1) It has the Argus Sandmar wide angle 35mm f/4.5 lens rather than the normal 50mm f/3.5 lens. Some vendors are currently asking more than $300 for this lens. 2) This camera was presented to a departing Naval officer, Captain Frederic L. Bates. In 1942, Captain Bates, then Lieutenant Junior Grade Bates, was a Naval pilot awarded the Navy Cross for extraordinary heroism in the Battle of Midway, 6 June 1942. The Battle of Midway, occurring just a little more than six months after the Japanese attack on Pearl Harbor, resutled in a decisive defeat of the Japanese Navy from which it never recovered. Although the war against Japan continued for three more years, from 6 June 1942 onward victory for the allies was inevitable thanks to those who fought so bravely on that day.
https://books.google.com/books?id=q98BDAAAQBAJ&pg=PA425&lpg=PA425&dq=Bates,+Frederick+Leeson&source=bl&ots=znBo1XtY6Q&sig=ACfU3U3EBToPR1
_MnnguHtXSc9esVpONTQ&hl=en&sa=X&ved=2ahUKEwjj_f2lid_gAhVJ8IMKHcBGAssQ6AEwAHoECAcQAQ#v=onepage&q=Bates%2C%20Frederick%20Leeson&f=false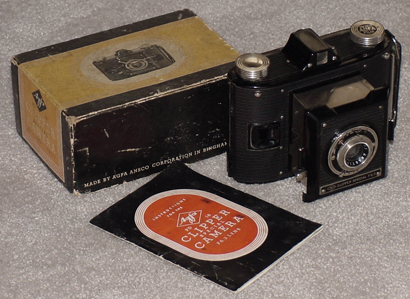 AGFA CLIPPER SPECIAL - 1939. This camera is unusual in that the lens portion slides outward in box-like fashion rather than by way of folding bellows. It was purchased on eBay in like-new condition with original box and manual for $30.
http://camera-wiki.org/wiki/Agfa_Ansco_Clipper_Special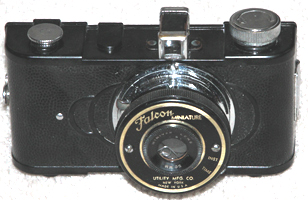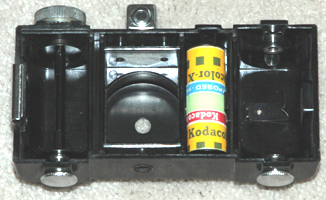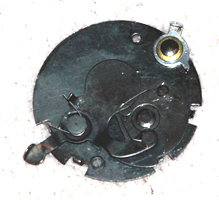 UTILITY MFR CO. FALCON MINIATURE - 1939. Typical inexpensive camera made of bakelite in the 30s and 40s. This camera and others were designed by Jack Galter and sold under many brand names. Bakelite was one of the first plastics made from synthetic components and was used for its electrical nonconductivity and heat-resistant properties in electrical insulators, radio and telephone casings, and such products as kitchenware, jewelry, pipe stems, and children's toys. The styling of the Falcon was intended to make it appear similar to the Argus A. The second photo above shows a roll of 127 film in the Falcon's storage compartment. The thrid photo shows the very simple shutter mechanism used by many inexpensive cameras of the time, including many Kodak box cameras. Lens: 50mm, fixed focus and aperture. Shutter: bulb and 1/25 second. The list price of the Falcon was $3.98 (about $66 in 2012 dollars), but normally sold for much lower prices. One Ad by Abes of NY was for $1.79 (about $30 in 2012 dollars.
http://camera-wiki.org/wiki/Falcon_Miniature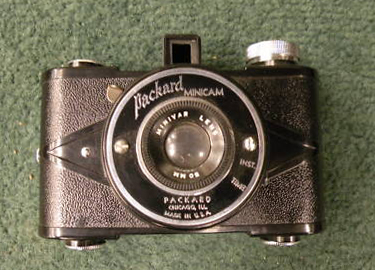 UTILITY MFR CO. PACKARD MINICAM - 1939. The minicam was one of many inexpensive cameras manufactured by the Utility MFR Company of NY and Chicago and is typical of the entry level bakelite cameras common of the time. The can be purchased today in the $10-20 range in excellent condition.
http://camera-wiki.org/wiki/The_Chicago_Cluster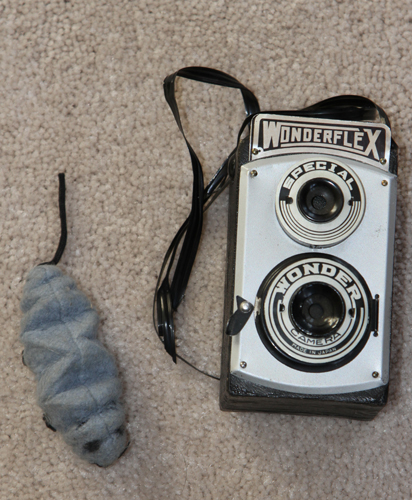 MOUSE CAMERA . This gag camera from Japan is just one of thousands of non-camera items that one can collect such as bracelet charms, coffee cups, hats, pins, clocks, imitation cameras, etc. Indeed, it is possible to have a very large photography collection without a single camera in it! Many such items are shown in McKeown's Price Guide to Antique & Classic Cameras and some have siginificant monetary value. The camera shown above makes a squeeking sound as the cloth mouse with a spring inside pops out and flies three feet or more onto the lap of the startled victim.
McKeown's Cameras, 12th Edition (2005-2006), page 1100.


TELEVISION AND WORLD'S FAIR - 1939. Television was broadcast by RCA from the 1939 New York World's Fair. Visitors during the fair not only were able to see television for the first time, they also brought home wallet cards to prove they'd been "televised." President Franklin D. Roosevelt, present at the creation of RCA and a frequent speaker on radio, became the first president to be seen on television when the Fair's opening ceremonies were telecast ten days later.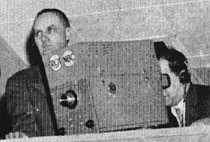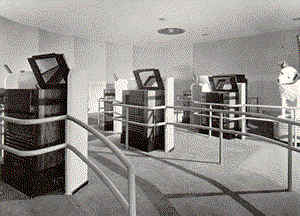 Mirrors Reflect Images to Viewers on TV Sets at '39 World's Fair
Additional information concerning early television can be found at:
http://www.pharis-video.com/p2050.htm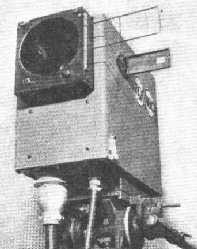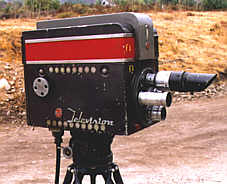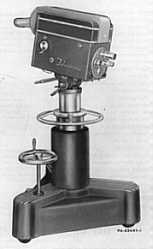 1938 RCA Iconoscope RCA TK-10A Television Camera
Additional information and photos concerning early TV cameras can be found at:
http://www.pharis-video.com/p21.htm
http://www.pharis-video.com/p2050.htm
1930s